SmartPublisher™ is an intuitive publishing suite that empowers  magazines publishers to increase revenue by minimizing effort and maximizing efficiency.
You Don't Have To Take Our Word For It
SmartPublisher™ is a rare piece of software in that it performs beyond my initial expectations. I was very intrigued with the demo, impressed with the professionalism of the training staff and very satisfied with the follow-up support." D. Shimberg, Director of IT, Philadelphia Magazine Read More Testimonials
Request a demo today and learn why over 50 magazines use SmartPublisher™ .
SmartPublisher™  is a proven solution having published more than a billion dollars worth of ads! Let our leading-edge software take the complexity out of print and digital advertising.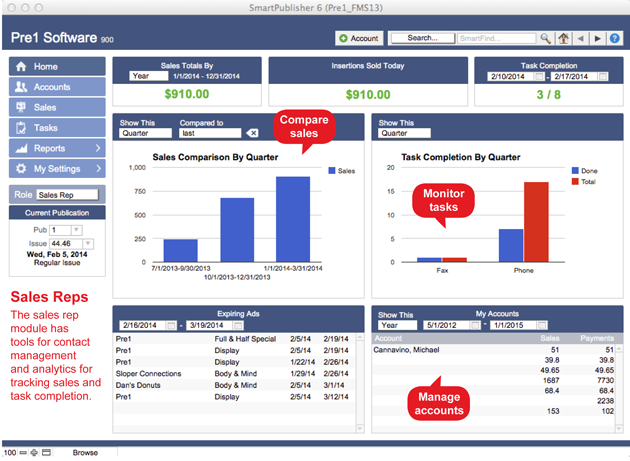 Ad sales management system lets you take control of contact management with task/appointment tracking and prospect/client follow-ups.
Online advertiser portal creates a personally branded website for your publication where advertisers can pay invoices by credit card. Advertisers are billed electronically and pay through a secure online provider. No personal financial information is stored in SmartPublisher™.
Help your sales team increase ad sales SmartPublisher™  will also help your accounts receivable team collect on outstanding invoices.
Let designers export fully formatted classified and display ads into industry-leading pagination software.
Lets your advertisers review their payment history online reducing the number of in-person or email requests your accounting staff has to field. Advertisers also have access to self-help information about their accounts.
Powerful accounts receivable system designed specifically for the ad billing and collection needs of publishers. Targeted tools let you generate and email quotes, invoices and statements, track general ledger code and create detailed financial reports.
Request a demo today and learn why more than 650 newspapers, magazines, online publications and email publishers chose SmartPublisher™.
Ad Management Tools Designed To Maximize Productivity
Action item tracking
Correspondence history
Run sheets, expiring contracts, aging
Transaction, revenue, commission, credit hold reports
100+ built-in reports
Proven Ad Order Entry System Designed To Increase Sales
Manage multiple revenue streams and publishing zones
Price ads by word, line, inch, modular sizes CPMs or CTRs
Preview WYSIWYG classifieds
Produce quotes and pre-bills
Generate an instant short rate
Add extra charges for upsells
Need Help With Accounts Receivable?
Reduces the amount of effort required to make a payment, which increases your cash-flow rate.
Eliminates your need to key in payments because the advertiser does it for you.
Pre1 Software hosts all necessary files for the Advertiser Portal, freeing you to tackle other tasks.
Secure online credit card processing
QuickBooks integration
Request a demo today and find out why over 650 publications have sold over a billion dollars in ad sales using SmartPublisher™.

"I appreciate the way Pre1 has worked with us, especially the support staff. They have been very patient and understanding with our employees." - Emilio Martinez, President