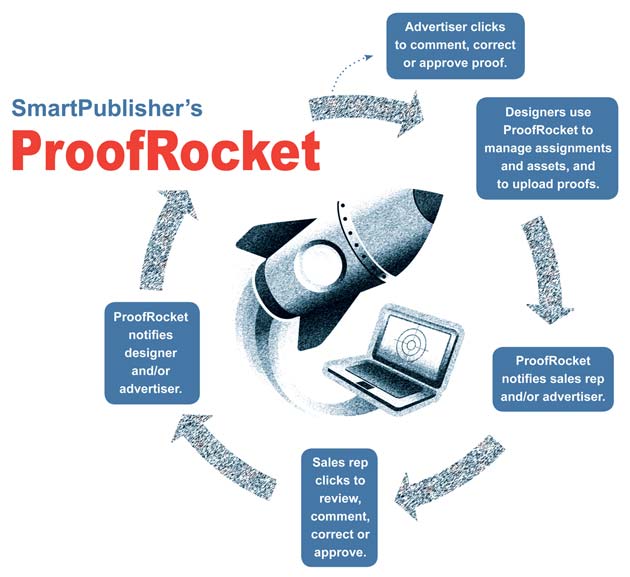 ProofRocket online proofing software saves time and reduces errors by allowing you and your clients to share content on a common platform.
Seamless Communication
When it comes to processing display ads, ProofRocket puts everyone on the same page. From production designers and sales reps to advertisers, SmartPublisher's proofing software and ad trafficking system provides powerful tools to get the job done right.
Filter online run sheets for display ads based on issue, date, section, status and more.
Digitally mark up ad copy and graphics just like a printed document.
Start-to-finish proofing system incorporates feedback along each stage of the proofing process.
Streamline Workflow
Online proofing software removes the hassle of multiple entry points. Ad preparation and approval is accomplished in a few easy steps.
Designers use an online run sheet to manage their assignments.
When a proof is complete, quickly upload it to ProofRocket's online proofing system.
An email is automatically sent to the sales rep with a link to the proof.
The interface allows for comments, uploading additional artwork and ad approval.
A link is forwarded to the advertiser, who can make changes or comments, or approve the ad.
Superior Experience
ProofRocket's online ad proofing software facilitates excellent customer service by keeping advertisers in the loop. It eliminates misinterpretations so ads contain only the information and images your clients want. With online ad proofing sales reps and advertisers can make subtle changes or creative enhancements whenever their brain works to inspire them.
Contact us today for a free demo and see how much time our online proofing system will save you and your team.